Chiropractic Treatment for Migraines & Headaches in Mt Pleasant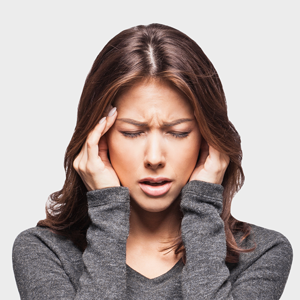 Migraines and headaches can be debilitating for anyone. They keep you from time with friends and family, they cause work absences and prevent you from spending quality time with your kids.
They can keep you from holiday celebrations, your children's athletic games, they cause work absences, and they can even strike at dangerous times, like when you're driving.
At Atlas Spine & Wellness Care, we understand the frustration that stems from the effects they have on your quality of life, as well as the inconvenience and disruption they can cause to work and family life.
What Causes Migraines?
Though there isn't a well-known single cause of migraines or other headaches, there are theories and hypotheses regarding their causes, including the blood flow to the brain, the health of the nerves around the head and the neck, and the health of the joints and vertebrae of the neck.
Through care at Atlas Spine & Wellness Care, Dr. Periard can help make your migraines and headaches more manageable and in many cases, through continued treatment, significantly decrease the frequency or even eliminate them altogether.
When it comes to head pain, the common denominator is the nervous system. A unique area in the upper cervical spine acts as a relay center for all pains to the head. Joint malposition or pressure on nerves in this area will cause some sort of head pain.
In addition, an Atlas misalignment can cause a lack of blood flow to the brain.
By finding the misalignment, Dr. Periard can get pressure off the nerves through an adjustment and decrease the number of headaches and migraines you suffer from.
Live Your Life Free from Pain
You don't have to live your life worrying about the next headache or migraine or how it is going to disrupt your entire day or week. Chiropractic care is a natural way to regain your health and get back to living your best life.
Call us today to set your path to healing into motion, (843) 352-7941.

Migraine and Headaches Relief Mt Pleasant SC | (843) 352-7941